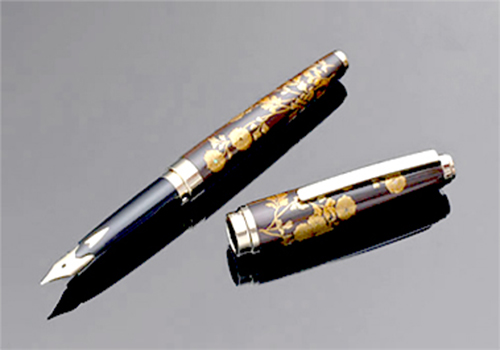 In 1911, the Sailor Pen Company was established in Japan, introducing the fountain pen to the Japanese market. In 1949, the Sailor Pen Company began manufacturing fountain pens and their ink cartridges utilizing automatic injection molding machines. At this time the injection molding technology was unheard of in Japan. This was the starting point of the Sailor Robot. At the outset, each molding machine required an operator to remove parts from the molding machine by hand.
Molding machines were operated 24 hours a day in a 3-shift system. In 1967, Sailor developed automatic extraction robots to improve the efficiency of the take-out operation. Two years later the first extraction robot – RX-0 – was completed.
After three years of development and testing, we introduced our first robot model at the Japan Plastic Trade Fair. The RX unit demonstrated a fully automated system for parts extraction and attracted much attention throughout the molding industry. To meet the high demand, the Sailor Robotic Division was created. The purpose of this division was to develop a high quality engineering technology to meet injection molding demands.
We presently offer state-of-the-art technology, the highest level of reliability, and longest product life. Based on data collected from our customers, we know our robots have a life span of at least 10 years. In addition, we keep design data on each machine; with a promise to our customers that any problems will be dealt with quickly and efficiently after purchase.
Sailor has been a leader in robot integration with over 40 years of experience and state-of-the-art technology in making custom automatic extraction robots as well as creating unique automation systems to offer solutions on improving manufacturing efficiencies. We are one of the top providers in the industry and constantly strive to improve and conduct business with the highest degree of integrity and respect for our customers.
1967

Launched the development for automatic extraction of product from the injection molding process. The original system allowed the removal of a pen case from the mold.

1969

Completed the design of experimental RX-0 robot.

1970

Displayed the RX model robot at the third Japan Plastic Trade Fair. The RX unit demonstrated a fully automated system to extract parts and attracted much attention throughout the molding industry.

1971

Continued to develop small and medium sizes of RX model robot (RX-2A, RX-3, and RX-4)

1972

Established an Osaka Sales Office to expand robot sales activity in Tokyo and Osaka markets.

1975

Designed the RX-5 model robot and also developed an automation process which used two different colors for molding keyboard tops. Designed and manufactured a new traversing type extraction robot named the RZ-series robot (RZ-50,100, 300 and 500).

1979

Completed design and manufacture of assembly and stacking systems for use in the manufacture of Audio Cassette Shells. Began supplying large automation systems for each magnetic tape manufacturer both domestic and overseas.

1981

Established a distributorship agreement with Automated Assemblies Corporation in Massachusetts to sell RZ-series and RX-series robots in the United States. Completed a design of special horizontal take out system for Laser Disc (LD) production.

1982

Established the Robotics Division and constructed a new facility in Ohme, Japan to increase design and production of standard RZ and RX product lines.

1983

Introduced the new RZ-D series traversing extraction robot with a specially designed high-speed cylinder assembly, which greatly enhanced the output of the robot.

1985

Exhibited RZ-D series high-speed robots at USA National Plastics Exhibition (NPE '85) in Chicago, Illinois and increased sales volume to the US market. Developed a take out robot and stacking system both domestically and overseas which caused a sharp increase in Sailor Company stock.

1987

Established a Tohoku Sales Office in Sendai, Japan. Continued development of equipment for the disc-related industries and introduced a high-speed mechanical robot capable of 0.4 second take out time.

1988

Introduced the new RZ-F series traversing extraction robot with 3-axis servo motor drives, which improved the speed and positioning of the robot. Developed much larger RZ robot models (RZ-3000 and 4000) and started supplying robots to major corporations domestically and overseas (Ford, Gillette, etc.). Developed an automation system to extract, assemble and stack 3.5" micro- floppy discs.

1990

Increase sales design and manufacture of custom designed factory automation. Developed a small swing arm design extraction robot for CD applications. A very high-speed horizontal takeout robot for 3.5" micro floppy discs, and the bit (female screw) press fit machine (rectangular coordinate).

1991

Established a Nagoya Sales Office to expand sales activity in the Chukyo and Tokai markets in Japan. Demand increases for new automation in the following markets: a) 8mm videotape and DAT tape cassette b) Special takeout robot for MD (mini disc) c) Photo multiplier disc 86mm-130mm diameter d) CD mono (one) line system

1992

Introduced the new RZ-G series servo driven traversing extraction robot which are ultra high speed and extremely durable. Introduced the new RX-7 sprue picker. Completed the successful design and manufacture for the automatic takeout and alignment of food cups in 4.8 seconds, for various medical parts and for the MD shell auto stacker.

1994

Introduced the new RZ-H series servo driven traversing extraction robot and the SR series line of high-speed swing arm servo driven robots for CD extraction.

1996

Established a Thailand sales office in Bangkok to expand sales activity in the Southeast Asian market. Developed the RZ-J series servo driven traversing extraction robot with low over head height clearance.

1997

Established Sailor USA, in Atlanta, Georgia, as direct sales and service organization, focusing on North America's Plastics Industry, providing support and service to robot and automa-tion installations dating back to 1982 when Sailor products first became available in the United States. Built a new state-of-the-art manufacturing facility in Ohme, Japan to meet the increased demand for robot and automation products world-wide.

1998

Introduced the new RSP-Series all pneumatic traversing sprue picker. The need for the RSP was driven by American custom molders desire to automate larger machines with low cost pickers that could also be outfitted with parts vacuum capability and 90 degree wrist flip units. Sailor was the first robot supplier to respond with low cost parts extraction alternatives.

1999

The demand for Sailor's advanced automation expertise prompted the construction of yet another manufacturing facility dedicated solely to custom automation development and production. This new building allowed for the separation of standard robot manufacture and special automation.

Debuted the RZ-N-Series robots at IPF (International Plastic Fair) in Chiba, Japan.N-Series robots feature the latest in AC Digital Servo technology, all new color touch panel user interface, 200 mold setup memory and much more. Established Sailor Robotec, Inc. in Irvine, California, in support of the Japanese transplant companies and custom injection molders on the west coast.

2001

Developed and introduced pipette racking automation systems in Japan and USA.

Introduced the all new, Alpha Series Full AC Digital Servo Extraction Robot. Design for maximum flexibility while priced so even small size molders can afford full servo robots. Alpha Robots are available in single and double vertical arm configurations.

2002

Introduced the RZ-V Series robot at IPF in Chiba, Japan .V-Series robots feature a windows based control system centered around a 12" color touch screen user interface.

2003

Established Sailor Automation, Inc. in Placentia, California, by merging Sailor USA, Inc. and Sailor Robotec, Inc. for better operations and customer services across America.

2005

Introduced the new RZ-VE Series robot at IPF in Chiba Japan.VE Series robots feature easy to use 6.5" touch screen pendant and "My Program" function which enables customers to make custom sequences on the floor with ease.

2006

Sailor entered the market of Ultra High speed Side Entry robots for fast cycles on high cavitations and larger tonnage machines.

2010

Sailor introduced the RZ-Sigma Series, featuring more rigidity and refined designing to enable customers to further successfully extract parts with increased productivity.

2011

Sailor Pen Co. celebrates its 100th year anniversary since its founding in 1911.
Introduction of the RZ-Sigma II Series at the International Plastics Fair 2011, an upgrade to the newest line of the best extraction robots in the market. The new series includes an upgrade to the Touch Panel Controller with Network accessibility and camera to Sailor Services for even better support to our customers.